Outdoor Living at Trevena Cross
With no compromise to our plant growing and available plant selection last season, we decided to expand our 'Outdoor Living' section and 'GO BIG' with our garden furniture at Trevena Cross!
We all spent A LOT of time in our gardens last year and they are likely to remain very precious to us throughout this year too, so why not invest in them? To offer the ultimate in al fresco dining and comfort we are offering a large range of beautiful, high quality wooden furniture, and popular robust metal options too. See below for details.
---
Timber & Metal Furniture
Recognised throughout the UK and Europe for its quality and design, these Alexander Rose sustainable outdoor furniture sets and items offer something for everyone and that's why they form the main collection of garden furniture at Trevena Cross.
The timber collection comprises furniture that has all come from sustainably sourced and FSC certified wood. From acacia sets to pine pieces and even the immensely strong and durable roble wood, there is plenty of choice and beautiful wooden furniture to suit every garden – be it a traditional or more contemporary style you're after.
Our metal furniture range is made up of our popular beautifully crafted Portofino pieces that showcase wire mesh, combined with tubular powder coated mild steel, treated and primed to prevent corrosion. New for this year is also a taste of the Rimini range, through which the craftsmanship can be really appreciated in the welding and polishing of the frames, and the powder coating in a finely textured matt grey finish. Its sofas have luxurious deep cushions and its table tops a grey ceramic effect glass. These pieces are made to last, come with a five year warranty, and will transform the 'outdoor rooms' of your home.
Our rattan furniture carries the 'Cornish Riviera' label, which is exclusive to us here at Trevena Cross. These desirable pieces, which include dining sets, lounge sets, sets with firepit tables, sunbeds, and a number of others, come in a grey basket weave, ranging from 7mm to 17mm wide, with 100% polyester cushions, resistant to shrinking, and easily cleaned with warm soapy water. Our rattan furniture is stunning to look at but also practical and designed to be used not just admired!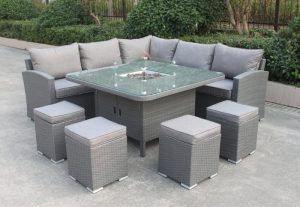 ---
We of course have the full range of accessories available to accompany your furniture too – seat cushions, bench cushions, scatter cushions, parasols and parasol bases, to help you achieve ultimate comfort and ultimate style in your outdoor living space!
---
Furniture Delivery Information
All furniture prices as displayed INCLUDE FREE DELIVERY within the TR postcode area. Furniture will be delivered as it comes, be that pre-made (in the case of the rattan furniture) or flat-packed. Some furniture items/sets require more assembly than others.
A £25 surcharge will apply if you would like anything that comes flat-packed, to be 'made up' by our team, for delivery. Please ask if you're unsure whether this applies to your chosen furniture.
Don't forget that if you're taking advantage of FREE DELIVERY – make the most of it and have your plants delivered at the same time! Shopping for the garden… delivered to your garden… for free – what could be better?
Pop by to check out the huge range of furniture we're now stocking to appreciate the quality and comfort!.. (far superior to cheaper 'imitation' furniture you may find at chain home stores).